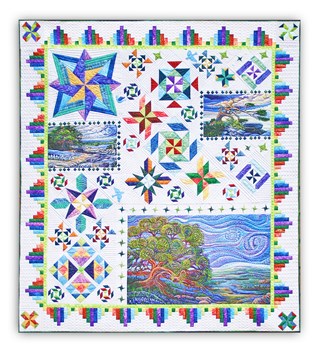 Blustery Mornings Deluxe Quilt Kit Review
Blustery Mornings Deluxe Quilt Kit has not been rated yet.
Write a review
Scroll Over Image for Close-up!
Blustery Mornings Deluxe Quilt Kit
ProductID: ZK-Blustery-Complete


This Exclusive quilt design by Teresa is one that will quite literally take your breath away -- simply because looking at it you can feel the Blustery Morning air whip through your body! But, never fear, you will be nice and cozy under this Twin size quilt.

Featuring Northcott's Dreamscapes and Water Garden Panels and Fabrics, the finished quilt measures 78" x 87". The quilt kit includes all of the fabric to make the quilt top, including binding, panels and a 43-page full-color pattern booklet.

The Deluxe Quilt Kit also includes the Tri-Recs ruler, the pre-printed papers for the paper-pieced blocks, AND the 108" Backing - all included!

Plus, as an added Bonus, fabric and instructions to make either coordinating pillows or a table runner are also included.

Sample pieced by Pam Riss and long-arm quilted by Nancy Fessel. Thank you to you both!


Item Tags: Quilting Studio, Sewing Chairs, Arrow Cabinets, Sewing Room Furniture, Sewing Chair
*Please Note
-
Layaway available on this item
More Favorites Related to this Item: