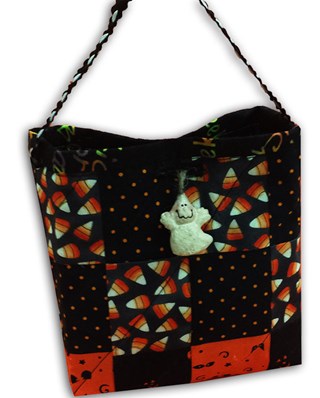 Boo! Ghost Halloween Tote Kit Review
Boo! Ghost Halloween Tote Kit has not been rated yet.
Write a review
Scroll Over Image for Close-up!
Boo! Ghost Halloween Tote Kit
ProductID: ZK-BooTote
Look what we found from 2002 - our little Boo! Ghosts that we used as closures for little totes. We've freshened up the fabrics, and love these even more! These little totes measure just 5" x 5" x 1" (not including the ribbon handle). This little thing took only 30 minutes to make .. start to finish - no kidding. These have so many uses -- they can be great gift bags for a favorite teacher, assistant, or child. They are the perfect size to hold your cell phone and a few items while taking the kiddos trick or treating, or use them to hold your spooky music CDs. The kit is All Inclusive - includes the easy-to-follow instructions, all of the fabric, the ghost closure (ghost expressions vary), lining, ribbon handle and batting required to make this Boo Tote. You only need a sewing machine and thread! Supplies limited.
Item Tags: Halloween Gift Items for Quilters
Customers who bought this item also bought: