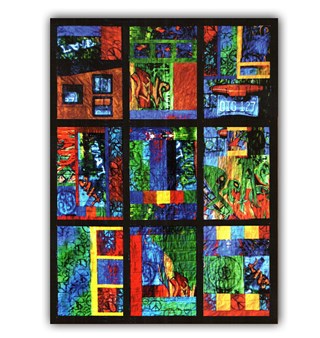 Boxcar Twin Size Quilt Kit Review
Boxcar Twin Size Quilt Kit has not been rated yet.
Write a review
Scroll Over Image for Close-up!
Boxcar Twin Size Quilt Kit
ProductID: ZK-FDSbox1
This edgy art quilt, featuring the Streetsmarts Collection by Frond Design Studios, summarizes the American counter culture's struggle with a search for self expression and peace, and the necessity of chaos to find it (sounds like a teenager's room, doesn't it?). Frond Design Studios turn hand-generated art into beautiful fabric that's perfect for quilting, home decor, and garden projects. The depth of color and modern flair in these hand painted designs make Frond Design Studios' fabric a must have for your home.

This Twin Size quilt is perfect for that teen who epitomizes the American urban life. The finished quilt measures 70" x 94" and the quilt kit includes the fabrics, including binding, and easy-to-follow instructions required to complete the quilt.
Item Tags: Art Quilts, Urban Quilt Designs, Contemporary Quilts, Hand Painted Fabric Design
*Please Note
-
Layaway available on this item
Customers who bought this item also bought: