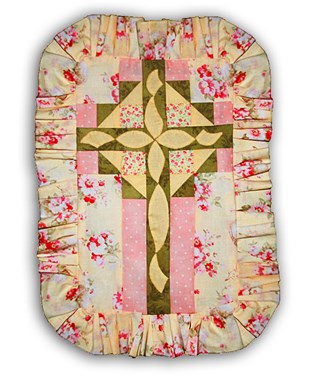 Risen - Radiance Ruffled Mini Pillow Kit Review
Risen - Radiance Ruffled Mini Pillow Kit has not been rated yet.
Write a review
Scroll Over Image for Close-up!
Risen - Radiance Ruffled Mini Pillow Kit
ProductID: ZK-Risen-Radia
$24.29
$26.99
per pillow kit
As Easter approaches, come share His praise with this new design by Donna Lannes Designs.
The design called "Risen" features a beautiful Ribbon entwining a cross. This version, called "Radiance" measures 11" x 15", including the sweet floral ruffle. The easy applique can be stitched or fused in place - your choice. Perfect wedding or confirmation gift, and for your home decor
The kit features all of the Lecein Fabrics required to complete Radiance as shown, including backing fabric and ruffle. You will only need thread and stuffing.
The pattern for the entire Risen Ensemble (includes Rejoice, Glory and Radiance) will be available for immediate download upon completion of your order.
Make sure you have the most updated version of Adobe Reader (for the pattern download).
Go to this link, and download the free version.
Fabric Type: 100% Cotton Quilting Fabric
Item Tags: Quilting Fabric, Quilting, Fabric, Free Gift
More Favorites Related to this Item: