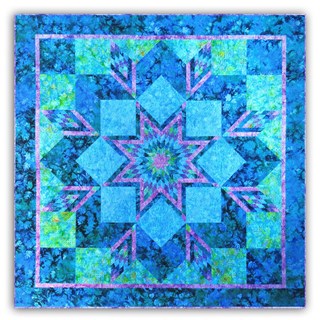 Sea Star Batik Quilt Kit Review
Sea Star Batik Quilt Kit has not been rated yet.
Write a review
Scroll Over Image for Close-up!
Sea Star Batik Quilt Kit
ProductID: ZK-SFH-SS100
$52.00
$104.99
per quilt kit
Sail the Seven Seas ... And always know where you are with this stunning Sea Star Quilt! Measuring 70" x 70", and featuring Island Batik's London Fog Collection - stunning blues, purples and greens that make the star centerpiece a nautical wonder - you'll find the easy-to-follow instructions by Brenda Clyde to make this 8-point star fun and truly satisfying. Join us on this journey through the seas together!
Seven Seas Quilt Kit
The kit includes all of the fabric required to complete the quilt top as shown, including binding and easy-to-follow instructions. Additional items are available below.
Backing
Backing sold separate - 4 1/2 yards needed.
TOOLS
Having the correct tools to make your quilt is important - you will feel so accomplished when it lays flat and beautiful. Below are some of the tools that Brenda used to make her quilt, and will also show you how to use them when you make yours.
Creative Grids 45° Diamond Dimensions Ruler
Brenda uses the Creative Grids 45° Diamonds Dimensions Ruler to make the perfect diamond stars - and, the full color pattern walks you through this process with great pictures and easy to follow wording.
Creative Grids 6in Flying Geese & 45°/90° Triangle Ruler
Barbara also recommends this very versatile ruler for this project.
Creative Grids Large Square Ruler
A good 'Squaring' ruler is so important when making quilts.
Item Tags: Medallion Quilt Kit