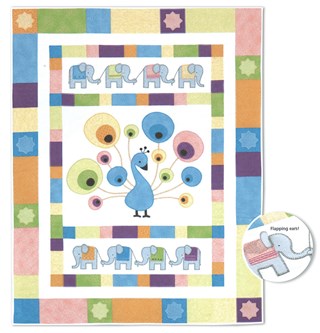 Baby Peacock Quilt Review
Baby Peacock Quilt has not been rated yet.
Write a review
Scroll Over Image for Close-up!
Baby Peacock Quilt
ProductID: ZK-SMBPeac
By: Smee Designs
This adorable baby quilt will light up any baby's room! Measuring 41" x 53", this quilt features Northcott's Toscana fabric, and you have the option for Minky backing! The kit includes all of the fabric required to complete the quilt top, including binding an easy-to-follow instructions with full sized templates. Plus, the quilt is even 3D -- the little elephant ears flap!
Item Tags: Adorable Baby Quilts
*Please Note
-
Layaway available on this item
More Favorites Related to this Item: