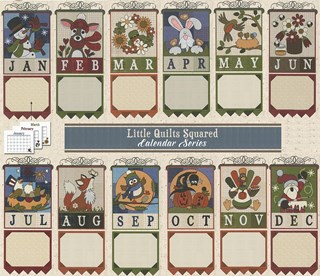 Little Quilts Squared -Hanging Calendar Series Review
Little Quilts Squared -Hanging Calendar Series has not been rated yet.
Write a review
Scroll Over Image for Close-up!
Little Quilts Squared -Hanging Calendar Series
ProductID: ZK-WBLQ-Calendar
By: Kelly Mueller
$2.00
Reservation Deposit
New!
Little Quilts Squared is an adorable collection of little squares by Wooden Bear - we are offering these in Three different formats - each to be automatically sent to you each month. These kits are made with woolies flannel background, and your choice of Wool or Flannel applique.
Table, Quilt, or Calendar Series
This is for the Hanging Calendar Series -- We also have the Quilt Series and the Table Topper Series
available here.
About the Kit
The Hanging Calendar kits include all of the fabrics required to make each months block, the month names (ie: JAN, FEB, etc), the calendar holder section below the block, as well as binding, backing, and buttons. The month cost of each kit is 24.99 for flannel applique version and $27.99 for the wool applique version plus shipping costs.
Optional Hanging Scroll
With the Hanging Calendar Series, you can display each month's on a 12" windy scroll which you can mount to your wall (as shown in the images), which we have available to reserve here, and it will ship with your first month's block.
Notes about our BOM Programs
•Should you be participating in more than one BOM with us, we will combine your orders to save you on shipping costs!
•Also, please note - while we do accept Paypal for the Reservation Deposit, we will need a credit card on file for the duration of the program.
•For optional items that you reserve, these will be charged and ship on the first month.
•BOM Reservations deposits are part of the overall cost of the program, and are not refundable. We ask that you please do not cancel out of a program once it's begun - all kits cut for you at the start of the program.
•At any time during the BOM that you would like to receive the remaining blocks, just contact us and we with gather and ship them to you.
•Shipping with our BOMS, where possible, will be 1st class insured (approx. $3.50) for the monthly blocks that fit within the constraints (under 13oz), Priority Mail for those over the 13oz; the cost of Priority will depend on the size of the shipment (the final month may be more $$ to ship if it includes a finishing kit.)
•Finally, should you make a mistake on your block, and if we have the fabrics in stock, we will replace the fabric
at no extra cost to you!
Item Tags: Monthly Wool Applique Series
More Favorites Related to this Item: