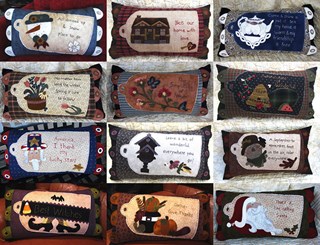 Pillow Talk
Start Any Time! Review
Pillow Talk
Start Any Time! has not been rated yet.
Write a review
Scroll Over Image for Close-up!
Pillow Talk
Start Any Time!
ProductID: ZM-LLSPT100
A great little program by Lori of Lily Anna Stitches, Pillow Talk is a program where you simply switch out the sleeve of your pillow every month for that month's special 'saying'. With fun little pillow talk blurbs like "All dressed up and Snow place to go", or "Best Witches" and "That's It, I'm Calling Santa", these adorable pillows will delight each month.
This is a 12 month program beginning in mid/late January 2015, and each pillow measures 12" x 23". The kits include all of the wool, cotton and the pattern required to complete each month. The first monthly will also include the fabric required to complete the pillow which you will use as a base for all follow-on months. The cost of the program is $29 per month plus shipping costs, and the $15 initial deposit which covers the cost of extra supplies in the first month.
We also have an optional floss pack available - 20 colors for $14.99. NOTE: You will always receive the month ahead so that you can have it ready to display for the coming month, so in January, you will receive the February pillow, and so on.
The Homespun Hearth 2014 Giveaway Prize #2
a Rafflecopter giveaway
Item Tags: Pillows, "POM", Pillow of the Month, Wool & Cotton Applique Designs
Customers who bought this item also bought: