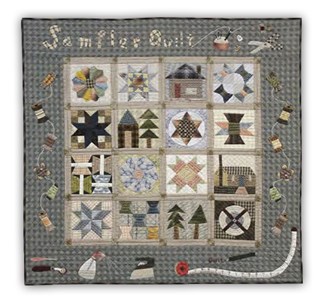 Sewing Room Sampler BOM -
Starts January! Review
Sewing Room Sampler BOM -
Starts January! has not been rated yet.
Write a review
Scroll Over Image for Close-up!
Sewing Room Sampler BOM -
Starts January!
ProductID: ZM-SRS1000
By: Yoko Saito
$12.00
Reservation Deposit
The Sewing Room Sampler Quilt combines two of Yoko Saito's favorites: blocks featuring traditional quilting motifs, such as stars and houses, plus one of-a-kind sewing-themed applique designs. This quilt makes the perfect decoration for a sewing room or home of a fellow quilter.
The Quilt
The Quilt measures approx. 41" square, and features Japanese Taupe fabrics from Lecein & Kona Bay similar in colorway to the original by Yoko. This is a 9 month program, and we also offer this as an All at Once Version. The book of the same name is also required to complete this program. This is for the Taupe colorway. We also offer this in a bright color option,
Which you can find here.
Block of the Month
This is a 9 month BOM scheduled to begin in January. Each month for 8 months you will receive the fabrics for 2 blocks. On the final month you will receive all of the remaining fabrics required to complete the quilt, including the outer border applique and binding. The cost of the Block of the Month is $31.99 per month plus shipping and the initial reservation deposit.
All at Once
We also offer this as an all at once, also shipping in January. The cost for the All at Once is $287.97 plus the initial reservation deposit, US Shipping is Free, and our International customer receive a 20% Shipping Discount.
Wool Applique Option
We also offer a Wool Applique Option for those of you who might like a little extra texture. Each month you will receive wool to applique on top of your pieced blocks. The cost of the Wool Applique is $49 and is paid up front on the first month.
Sewing Room Sampler Book (required)
The Sewing Room Sampler Book by Yoko Saito includes Step-by-step color instructions that illustrate how to piece the 16 blocks together and assemble the quilt. Full-size templates of the applique motifs are included on a pattern sheet.
Optional Backing
We also have optional coordinating Taupe backing fabric for this quilt. This will ship with the first month, and the cost is $17.99.
Fun Facts About Our BOM Programs
•Should you be participating in more than one BOM with us, we will combine your orders to save you on shipping costs!
•Also, please note - while we do accept Paypal for the Reservation Deposit, we will need a credit card on file for the duration of the program.
•For optional items that you reserve, these will be charged and ship on the first month.
•BOM Reservations deposits are part of the overall cost of the program, and are not refundable. We ask that you please do not cancel out of a program once it's begun - all kits cut for you at the start of the program.
•At any time during the BOM that you would like to receive the remaining blocks, just contact us and we with gather and ship them to you.
•Finally, should you make a mistake on your block, and if we have the fabrics in stock, we will replace the fabric
at no extra cost to you!
Item Tags: Quilt Made with Japanese Taupe Colors
More Favorites Related to this Item: