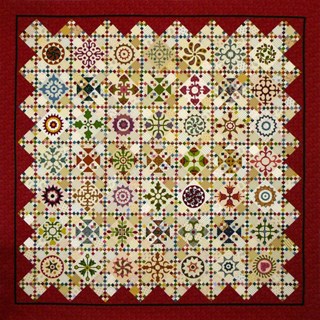 Afternoon Delight - 12 Month BOM Program Fee Review
Afternoon Delight - 12 Month BOM Program Fee has not been rated yet.
Write a review
Scroll Over Image for Close-up!
Afternoon Delight - 12 Month BOM Program Fee
ProductID: ZMxx-AD1000-BOM
Afternoon Delight is one of those quilts that will quickly become a favorite design! This wonderfully scrappy quilt is truly a delight to make with its combination of simple applique blocks and Double Nine-Patch blocks, and modified Shoo Fly blocks. Each month you will work on a variety of pieced and appliqué blocks, with the final blocks and borders arriving in the final month. In all we've used more than 100 different fabrics in the quilt!

The finished quilt measures 88-1/2 inches square. Each month for 12 months you will receive the fabrics and patterns required to complete that month's blocks. Binding will also be included in the final month, and optional backing is available below.

Customized Outer Border
The standard outer border color of this quilt is the deep red. If you would prefer a different color, please let us know in the Special Instructions what colorway you prefer, and we will work with you to get the perfect match.

Block of the Month This is a 12 month BOM scheduled to begin in February. The cost of the monthly program is $29.99 per month plus shipping. These are shipped via USPS Priority mail If you reserve the backing, it will also be included below.

All at Once - Free US Shipping
The All at Once, also scheduled for February, is $359.88 one week before we ship. US Shipping is Free for this option, and our International friends receive a 20% shipping discount. Each month's blocks will be individually packaged for your convenience.



Notes about our BOM Programs
•Should you be participating in more than one BOM with us, we will combine your orders to save you on shipping costs!
•Also, please note - while we do accept Paypal for the Reservation Deposit, we will need a credit card on file for the duration of the program.
•For optional items that you reserve, these will be charged and ship on the first month.
•BOM Reservations deposits are part of the overall cost of the program, and are not refundable. We ask that you please do not cancel out of a program once it's begun - all kits cut for you at the start of the program.
•At any time during the BOM that you would like to receive the remaining blocks, just contact us and we with gather and ship them to you.
•Finally, should you make a mistake on your block, and if we have the fabrics in stock, we will replace the fabric at no extra cost to you!




Item Tags: Applique Quilts, Seasonal Quilts, Bed Quilts
More Favorites Related to this Item: