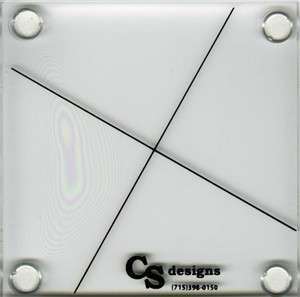 Lil' Twister Tool Review
Lil' Twister Tool has not been rated yet.
Write a review
Scroll Over Image for Close-up!
Lil' Twister Tool
ProductID: ZN-CSHMiniTwister
By: Shelly Stokes, CS Designs
Create pinwheels by simply sewing squares together!

This strip friendly mini size twister tool works with 2-1/2in strips to create fun multi-colored pinwheels.

Use 4-1/2"" squares (or charm packs) for traditional single-colored pinwheels. Tool measures 2-3/4in square and makes 4-1/2in finished pinwheels.

INSTRUCTIONS INCLUDE TABLE RUNNER PATTERN. Durable thick acrylic with raised feet for easy placement and no slipping.
Item Tags: Quilting Tools, Creative Quilting
More Favorites Related to this Item:
Customers who bought this item also bought: