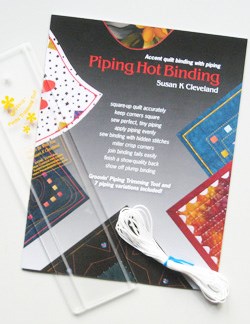 Piping Hot Binding Tool Kit Review
Piping Hot Binding Tool Kit has not been rated yet.
Write a review
Scroll Over Image for Close-up!
Piping Hot Binding Tool Kit
ProductID: ZN-SKPHB
Groovin' Piping Trimming Tool - After piping has been sewn, simply lay the Groovin' Piping Trimming tool over sewn piping allowing cording to ride up into a groove, then cut along the tool's edge with a rotary cutter. Voila....a perfect seam allowance because the groove holds the cording in place!!!
One side of the tool is designed for a 1/4" seam allowance and the other is for a 1/2" seam allowance (wider bindings)!

For use with tiny cording, Tool is 11.5" in length and 3" wide and may be turned for left-handed users Use any size rotary cutter: 28mm, 45mm, or 60mm. Trim 400" of piping in 20 minutes!
Item Tags: Piping Hot Binding
Customers who bought this item also bought: