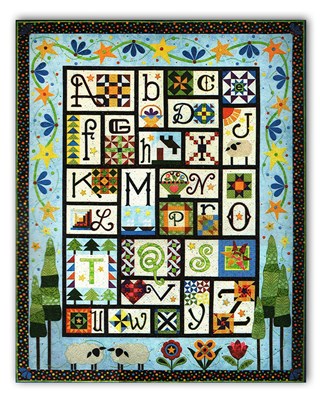 A to Z for Ewe and Me! Quilt Pattern Review
A to Z for Ewe and Me! Quilt Pattern has not been rated yet.
Write a review
Scroll Over Image for Close-up!
A to Z for Ewe and Me! Quilt Pattern
ProductID: ZP-AZ100
By: Janet Stone
This delightful ABC sampler quilt, A to Z for Ewe and Me, was designed by award winning and master quilter, Janet Stone, and the pattern is now available on a Flash Drive! With several of her ABC sampler quilts having won awards at some of your favorite venues, including Houston Quilt Festival and Machine Quilt Expo, you can now have one of these awesome quilts for your own! Each letter features a different quilt block - including some of our favorites such as friendship star, Churn dash, Log cabin and even Ship block. This is the perfect quilt for the beginning/intermediate quilter who loves to piece and applique (in the method of your choice!).

The completed quilt measures 69 1/2 x 88 1/2", a perfect twin or extra large throw, and the pattern consists of a flash drive (more than 100 pages of instructions and templates) as well as 8 printed pages in the pattern package that give the background story of the quilt, the names of each block, and a colored listing of each fabric used, along with yardages needed.
Item Tags: Janet Stone, Award Winning Quilt, Block of the Month
Customers who bought this item also bought: