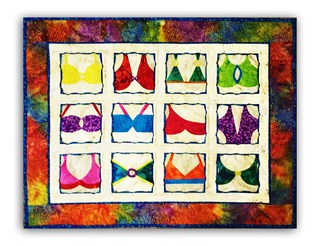 Pin It Up Wall Hanging Series
July -Surf Beach Beauties Review
Pin It Up Wall Hanging Series
July -Surf Beach Beauties has not been rated yet.
Write a review
Scroll Over Image for Close-up!
Pin It Up Wall Hanging Series
July -Surf Beach Beauties
ProductID: ZPD-Pin-It-July
$6.50
$12.99
per pattern download
Now Featuring July!

At Homespun Hearth we are excited to launch our EXCLUSIVE NEW

Every month for 12 months (plus your birthday month), we will release a new Free Pattern, each depicting that month's special holiday or time of year. The pattern is free during the month of it's release.
These designs are each close to the same size (24" x 32" to 28" x 26") so that the Pin it Up of the month can easily be swapped out in your home! These designs use all types of techniques and fabrics - everything from traditional piecing to paper piecing to applique, cotton to batiks to wool (and even some silk!), and you may find some stitchery in there, too!

You can also choose to receive kits available for these designs as well. You can elect to pre-order your kits here, and we will automatically send you the kits each month, guaranteed, or you can wait and see, and then order your kits while supplies last.

The cost of the monthly pre-order priced kit is $39.99 ($48.29 if you want coordinating backing), plus shipping. This is anywhere from a 5% to 10% savings off of the monthly kit charge. If you prefer not to pre-order the kits, then you will need to log into your account each month to get that month's pattern - it will be automatically uploaded into your account, and we will send you an email that it is waiting for you there.
The cost now is $0 to sign up for the series, or $3 to reserve your monthly kits.
Please Note: You MUST download your pattern during the month that it is offered for free. With each new month, the last month's pattern will be removed from your account and replaced with the new pattern. The cost of the last month's pattern will the be it's regular price of $9.00.
Genre:
Everyday
,
Christmas
,
Halloween
,
Americana
,
Easter
,
July 4th
,
Fall
,
Spring
,
Summer
,
Winter
,
Seasonal
,
July 4th
,
Mother's Day
,
Brights
,
Valentine's Day
,
Beach
,
Floral
Item Tags: Birthday Club Signup, Quilt Birthday Club, Club, Clubs, Free Pattern, Free Gift, Free Quilt Patterns
More Favorites Related to this Item: