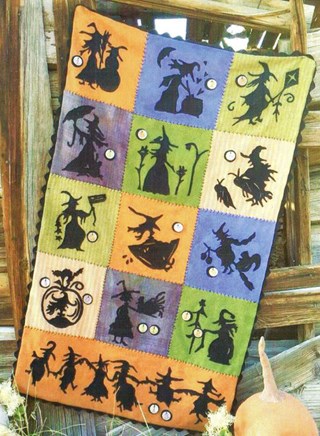 When Witches Fly Flannel Quilt Kit Review
When Witches Fly Flannel Quilt Kit has not been rated yet.
Write a review
Scroll Over Image for Close-up!
When Witches Fly Flannel Quilt Kit
ProductID: zk-1894-288-Flannel-Witch-Quilt-Kit
By: Sandra McKee
"When Witches Dance
The Night's Atremble
Music's a Creepy Note.
But When They Fly
Their Broom so High
My Heart Stops in My Throat!"
------Teresa
In this wonderfully spooky design you will find a variety of lively witches enjoying all the months of the year, making up the first 12 blocks and giving us the fun creepy creeps!
And as everyone knows, 13 is a Witch's Favorite Number so... on Block 13 you will get the chills with six dancing witches! These silohuettes just jump of the design -- I particulary like the Witchy Snowman - how about you?
The original design here is shown in wool, but this version if for a Flannel Quilt, using similar color ways - purples, pumpkins, greens and creams.
To order the Wool Version, Click Here
The Quilt Kit
The kit includes all of the flannel, Jumbo Ric Rac and black floss required to complete the design. The completed quilt measures 34" x 60" and we also have optional backing, as well as the 17 number vintage tags as seen on the original quilt.
Optional Vintage Tags
The original quilt has 17 number tags in vintage style - this is optional, and the cost is $11.00
Optional Backing
Coordianting Optional Flannel Backing - 2 yards for $21.99
Item Tags: halloween quilt
*Please Note
-
Layaway available on this item