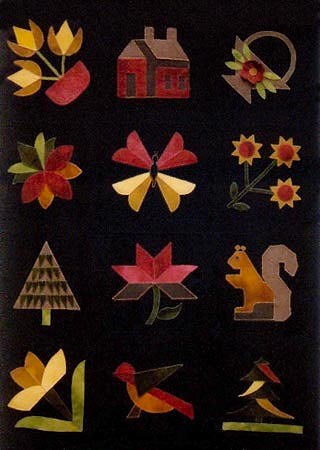 Vintage Find! The Rainbow Forest BOM Review
Vintage Find! The Rainbow Forest BOM has not been rated yet.
Write a review
Scroll Over Image for Close-up!
Vintage Find! The Rainbow Forest BOM
ProductID: ZM-LV401
$12.50
$25.00
Reservation Deposit
The blocks in this gorgeous wool quilt kit originated from the early 1900's, and the colorful hues against black give this 72" x 55" wool quilt a real antique flavor. Each month, for 12 months, you'll receive Jackie Apessos' button-hole-stitch, hand-applique directions, soft and-dyed felted wool and cotton floss for one block.  The cost of the program is $54.99 plus shipping costs, plus the $25 non-refundable reservation fee. The monthly cost also includes the pro-rated cost for the Finishing Kit (sashing & backing, border floss & perle cotton) that you will receive with the final shipment.

You can also elect to purchase the Kit All At Once. The cost of the all at Once is $1154.79 one week before we ship, plus the initial reservation deposit.

Please note that your BOM will begin the following month from your order, and will ship approx mid-month.
Item Tags: Moda United Notions, Angels, The Rainbow Forest BOM