GO! Baby Fabric Cutter by AccuQuilt
ProductID: ZT-Accu55300
Our Bundle of Joy has arrived! The GO! Baby offers:
Consistent, accurate cuts - up to 6 layers at a time
90% faster than traditional cutting
Lightweight - only 8 pounds (8 1/4" tall)
Compatible with more than 60% of GO! dies
Create perfect applique in the turn of a handle
Reduce fabric waste
No cut fingers or sore backs
Create endless design options
Minimal space needed for storage
Portable - no electricity or batteries needed
Most GO! Dies will Work with your GO! Baby Fabric Cutter
Die compatibility information is listed on all GO! die product pages and in our GO! Die and Cutter Compatibility Chart.
Note:  The GO! Baby Fabric Cutter does not work with 10" x 10" or 10" x 24" GO! dies.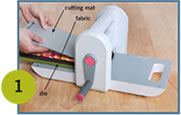 Place die on cutter FOAM SIDE UP. Place fabric on top of die.*
Place cutting mat on top of fabric.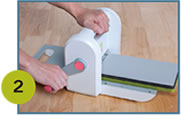 Push die, fabric and mat firmly
against roller. Turn handle in
direction you want the die to go.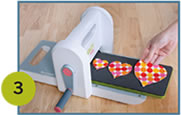 Remove mat, die-cut shape
and excess fabric. Add new
fabric and cutting mat on
top of die. Repeat process
from opposite side. No need
to handle die between cuts!
Reasons to Love the GO! Baby
Up to 90% faster than rotary cutters or scissors.
Consistent, accurate and stable cutting of precise shapes with no slipping rulers or measuring to reduce fabric waste.
Lightweight (only 8 lbs.) and portable, it folds to store and closes with a magnetic latch. The easy-lift carrying handle make is easy to take to classes, guild meetings, retreats and quilting bees.
Comfortable roller handle grip is easy and safe; eliminating arthritis, wrist, backaches, shoulder and elbow pain caused by using a rotary cutter.
Wide selection of GO! Baby dies allow the creation of unlimited projects - the possibilities are endless!
The design is innovative and easy to clean with a high gloss exterior surface and a neutral, light-colored work surface.
GO! Baby Fabric Chart: Chart below is the recommend number of fabric layers; actual number of fabric layers will vary depending on fabric type and thickness.
| | |
| --- | --- |
| Fabric | Layers |
| Cotton | 4-6 |
| Batik | 4-6 |
| Fleece | 1-2 |
| Flannel | 1-2 |
| Denim | 1 |
| Leather | 1 |
Care & Maintenance: For best results, always keep your GO! Baby cutter clean and lint free. To clean the cutter inside and out, use a soft dry cloth. Avoid abrasives, solvents and spray cleaners. If necessary, wipe with a damp cloth, then polish with a dry cloth. Use canned air to clear lint from roller area. The GO! Baby fabric cutter does not have replacement parts.
Limited One-Year Warranty: We promise your personal AccuQuilt GO! Baby cutter will be free from defects in material or workmanship when used as directed. If you experience a manufacturing defect within one year after purchase, AccuQuilt will repair or replace the cutter at no charge. Improper use, excessive wear and tear caused by commercial use and/or damage caused by the user will void the warranty. This warranty covers only the cutting unit--not mats or dies. To receive a replacement unit, return the cutter to the place you purchased it.
Item Tags: Sewing Accessories, AccuQuilt, Speed Cutting, Applique Quilt Cutter, speed Quilt Cutting, Fabric cutter
*Please Note
-
Layaway available on this item
Customers who bought this item also bought: