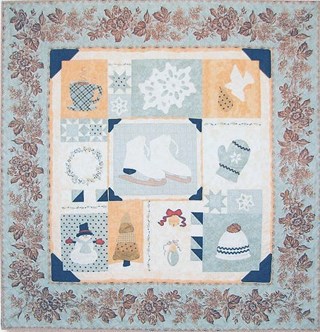 Winter Memories Quilt Pattern Review
Winter Memories Quilt Pattern has not been rated yet.
Write a review
Scroll Over Image for Close-up!
Winter Memories Quilt Pattern
ProductID: ZP-AQ502-L
By: Acorn Quilt Company ~ Brenda Riddle
This is a sweet quilt by Brenda Riddle of Acorn Quilt & Gift Company - one that will be a treasure in your home for generations to come. A warming cup of cocoa after a play day in the snow... brings such wonderful thoughts & Memories of winter days. The winter days may be a little bit nippy... but the beauty of the snowflakes floating & the fun they bring as we build our snowmen... melt away any chills! We hope you fell the warmth of the memories as you create this lovely quilt! Measures 54" x 56"
Item Tags: Quilt Patterns, Patterns, Acorn Quilt and Gift Company, Quilts, Winter Memories Quilt, Pattern, Quilt Pattern