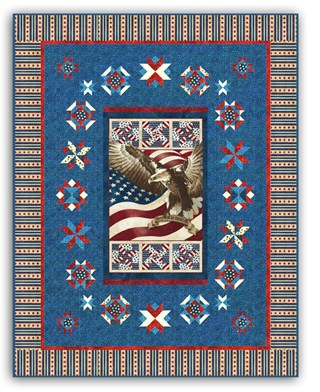 Proud to Be an American Quilt Kit Review
Proud to Be an American Quilt Kit has not been rated yet.
Write a review
Scroll Over Image for Close-up!
Proud to Be an American Quilt Kit
ProductID: ZK-QMEagle100
$193.90
$215.45
per quilt kit
Showcase this wonderful pre-printed panel by surrounding it with a variety of stars. Featuring the Stonehenge Stars and Stripes fabrics by Linda Ludovico & Deborah Edwards, and in Support of Quilts of Valor Foundation, these beautiful Northcott fabrics will make your patriotism shine! Available in the American Eagle who is holding the Proud to Be an American panel as shown here, and also the
God Bless America as shown at this link.
A twin sized quilt that measures 70" x 90", the kit includes all of the fabric, panel, binding, and easy-to-follow instructions required to complete the quilt kit. Coordinating backing is also available. .
Item Tags: Birthday Club Signup, Quilt Birthday Club, Club, Clubs, Free Pattern, Free Gift, Free Quilt Patterns
*Please Note
-
Layaway available on this item
Customers who bought this item also bought: