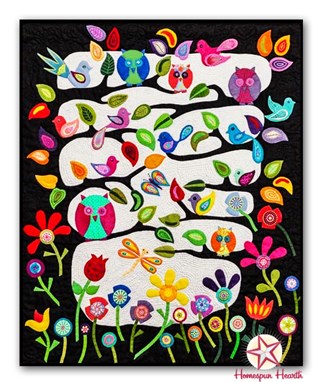 Its BACK! Hooterville Linen & Woolfelt Quilt Kit
Review
Its BACK! Hooterville Linen & Woolfelt Quilt Kit
has not been rated yet.
Write a review
Scroll Over Image for Close-up!
Its BACK! Hooterville Linen & Woolfelt Quilt Kit

ProductID: ZK-WWHoot-Linen
By: Wendy Williams
$247.18
$292.18
per quilt kit
What a joyful little quilt! This quilt is full of colorful images of the night garden, including happy little birds tweeting on branches, owls casting playful eye over the surrounds, and flowers & leaves decorate the forest floor.
Measuring 42 1/2" x 52", this quilt is a linen with woolfelt (20-30% wool content).
We also have this in a 100% Wool on Silk version, which you can find here.
The kit includes all of the linen and woolfelt to complete the quilt top as well as some fun cotton fabrics for depth, and binding fabric. Please note - these kits are cut individually and take approximately 1- 2 weeks to ship.
Wild Blooms & Colorful Creatures Book
This book has the instructions and is required to complete the quilt. It is available here - if you already have it, then you will not need to order it here. There are also 15 additional projects in this book!

We also have optional backing available - this is the Linen backing (black), and the cost is $17.87

Hooterville Tire Silk Thread Option
We recommend silk thread for our applique projects. For this project, we recommend a combo of Tire Silk #30 (heavier weight for top stitching), and #50 (for most of the applique work). We offer a special Hooterville Pack - 10 colors of the #30 and 20 colors of the #50 thread. The cost is $199 for this set.

Tire Silk Complete Spool Set Options
We also have complete sets of the Tire Silk in both the #30 and #50 weight. There are a total of 71 colors in the #30 (55 yards each spool) weight silk, and the cost is $539.60 - a 5% savings.

There are a total of 171 colors in the complete set of the #50 weight spools (109 yards each spool), and the cost is $923.40 - a 10% savings.
Fabric Type: 100% Cotton Quilting Fabric
Item Tags: Applique Quilt Kits, Woolfelt Quilt
*Please Note
-
Layaway available on this item
More Favorites Related to this Item: