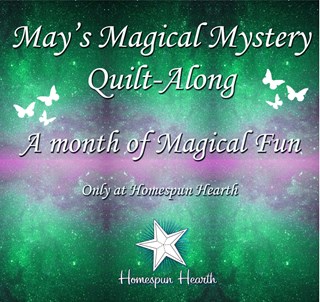 Scroll Over Image for Close-up!
May Magical Mystery Quilt Along for May Customer Appreciation Month!
ProductID: ZM-2020-May-Myst-Tour
For the past 20 years, May has been our Customer Appreciation Month, and once again, this year we have lots of great events planned that we hope will show you just how much you mean to us!
This is our 2nd Annual May Magical Mystery Quilt Along - and again, we think you are going to LOVE what we are doing! This is a one-month program that will keep you excited throughout the month. Also like last year, we are getting a head-start on this beautiful program! And, as always, space is limited, so be sure to take care of this asap if you want to join us! Take note that all reservations must be in NLT April 19, 2020.
The Event
For this event, if you choose to 'attend', you will receive 3 shipments of fabric during the month of May, as well as the required instructions that will be released into your account throughout the month. These can be done as they arrive, or if you prefer, you can just catch up each weekend - but by the end of May, you will have a gorgeous quilt!
The Fabric
You will receive a beautiful fabric that has been carefully pre-selected for this event, and because we want to keep certain things under-wraps, we will not be providing any details that could give away the design - except for the general size of the finished quilt -- 72" x 84". The kits will include all of the fabric required to complete the quilt top as well as binding.
Event Pricing
The cost of the program is $89 per shipment for a total of 3 shipments. This $89 includes US Shipping Costs, and our International Customers will receive a 20% shipping discount.
The Payment Schedule is as follows:
Payment #1 - Today - $89 (or when you reserve your spot)
Payment #2 - May 8, 2020 - 89
Payment #3 - May 19, 2020 - $89
Coordinating Backing
Coordinating backing is also available. If you select the coordinating backing, then that cost will be pro-rated over the 3 payments for a total of $22 per month ($66 total), and the backing will ship the final month.
Additional Information
We are shipping the fabrics so that you will receive them at the right time to meet your instructions. Also, you may elect to pay the entire event cost now - you will still receive the fabrics in 3 packages, but you will not be charged any additional costs during the month of May. We ask that you do NOT pay via Paypal as this will result in your fabric shipment being delayed (unless you are selecting to pay the entire amount now).
a Rafflecopter giveaway
Item Tags: Mystery Quilt, May Customer Appreciation Month
*Please Note
-
Layaway available on this item
Customers who bought this item also bought: