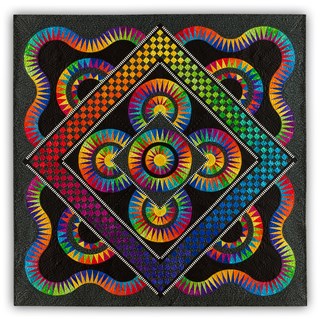 Brilliant Beauties of Joy Block of the Month or All at Once - Large 80" x 80" Quilt! - ****4 Star
Join Anytime Review
Brilliant Beauties of Joy Block of the Month or All at Once - Large 80" x 80" Quilt! - ****4 Star
Join Anytime has not been rated yet.
Write a review
Scroll Over Image for Close-up!
Brilliant Beauties of Joy Block of the Month or All at Once - Large 80" x 80" Quilt! - ****4 Star
Join Anytime
ProductID: ZM-BC-BBJ-1000-black
$8.99
Reservation Deposit
You've seen it. You've loved it. You've dreamt about it. Well, now you can make it for yourself! There really are no words to describe this stunning quilt by Jacqueline De Jonge of BeColorful from the Netherlands. How about Striking, Compelling, Electrifying and Dazzling, just to name a few? The bright BeColorful Batiks by Anthology seem to pop off the black and dark gray screen printed batik backgrounds. For a Close-Up view, scroll your mouse over the images - isn't that beautiful?

Paper Pieced Pattern - Foundation papers included. Level of difficulty - 4*** (out of 7!)

But, how can I, a somewhat novice quilter, tackle anything like this, you may ask? Well, it's with paper foundation piecing - the technique that ensures you get perfect points every time. Just follow the sequence as laid out on the paper pattern, sew the seam right on the paper, remove the paper, and voila - perfect points! When you complete the quilt, your friends and family will believe you to be a master quilter!

The completed quilt measures 80" x 80" - perfect for a full bed, or to top a Queen sized bed!

We offer this kit in 2 variations - either as a Block of the Month, or you can elect to get the entire kit All at Once Time. With either option, you will receive all of the Anthology batiks required to complete the quilt top, including binding, easy-to-follow instructions, and all of the foundation paper required to complete the quilt as shown.

Block of the Month
This is a 5 month program and you can join anytime. The cost of the program is $87.22 per month plus shipping costs and the initial reservation deposit.

All at Once
You can receive all of the fabrics for this quilt at one time, and takes approx. 2 weeks to ship. The cost of the All at Once is $436.10.

Backing
Coordinating Backing fabric is also available. The cost for the backing is $67.99, and is shipped with the first month's block.

Crystal Set
The original quilt be Jaqueline has more than 5000 Hot-Fix Crystals! We are offering a set of 200 each of 24 colors - for a total of 4800 Crystals for just $398 -- that's less than .09¢ each! You can select to purchase them All at Once, or if you have a BOM, you will be charged $79.60 over 5 months.

Fun Facts about our BOM Programs
•Should you be participating in more than one BOM with us, we will combine your orders to save you on shipping costs!
•Also, please note - while we do accept Paypal for the Reservation Deposit, we will need a credit card on file for the duration of the program.
•Shipping - we will ship insured, and if the blocks weight allow, it will be 1st class insured, otherwise Priority flat rate.
•Reservation fees are part of the overall cost of the program and are non-refundable.
•For optional items that you reserve, these will be charged and ship on the first month.
•Finally, should you make a mistake on your block, and if we have the fabrics in stock, we will replace the fabric at no extra cost to you!




Item Tags: Paper Pieced Foundation Quilts, Bright & Colorful Quilts
Customers who bought this item also bought: