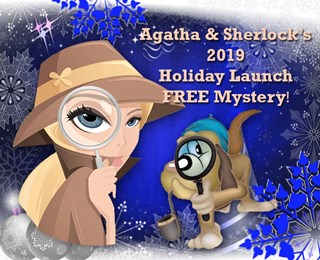 Agatha & Sherlocks Free Holiday Launch Mystery 2019 Review
Agatha & Sherlocks Free Holiday Launch Mystery 2019 has not been rated yet.
Write a review
Scroll Over Image for Close-up!
Agatha & Sherlocks Free Holiday Launch Mystery 2019
ProductID: ZPD-Agatha-November-2019
One Day Mystery
The Holidays are coming -- and Agatha & Sherlock want to join in the fun! Those days of Hot Chocolate and Mistletoe, Bows, Ribbons and Cozy Nights by the Fire are Upon Us. These two pals are about to solve a Holiday Launch Party Mystery, and they want you to join them! This is a one-day Free Mystery, and we think this design will get you into the Holiday Spirit!

The Mystery begins at 8:00 Mountain time on Saturday November 16th, 2019 and clues will be released throughout the day into your account until we have solved the mystery.

This is a Free Mystery and the finished quilt measures 69" x 78". To get started, simply add this to your cart and check out - the download with fabric requirements and cutting instructions will be available for you in your account as soon as you process your order. All steps will also be added to your account on the day of the event.

Optional Quilt Kits
Take the stress out of choosing your fabrics - We have LImited Optional Kits that will make a stunning quilt! The cost of the kits are $97.80 and this includes US Shipping Costs. The Kits will all ship out on Tuesday, November 5th, giving you plenty of time to cut your fabrics.

Mystery Quilt Choices are:
Into the Woods
Classic Christmas
Frosty Holiday


Optional Coordianting Backing is also available.


Fabric Type: 100% Cotton Quilting Fabric
Item Tags: Mystery Kits, Agatha and Sherlocks Mystery, Kit of the Month, Exclusive Clubs, Quilt Kits
Customers who bought this item also bought: