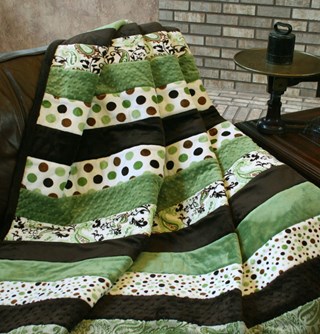 Scroll Over Image for Close-up!
The Frat Wrap Snuggler Minky Quilt Pattern Download
ProductID: ZPD-Snuggler-Frat
$6.74
$8.99
per pattern download

While this quilt would be great for any boy (or girl!) in your life, we also think this Quilt-as-You-Go Snuggler will be the reminder of home for your son who's off to college! The original is made from the softest snuggly cuddle and ultra plush minky fabrics, the rich dark and milk chocolate browns, teamed with the olive and mint greens, are certain to keep mom's 'hugs' and dad's 'tough love' within reach! This cozy quilt measures a generous 60" x 84" and the colors are perfect for the college go-getter ... and his fraternity friends will want one, too!

The pattern will be available for download in your account immediately following order completion.
Fabric Type: Snuggly ~ Minky
Item Tags: EEasy Rag Quilt, Minky Quilt Kits, Quilt-as-You-Go kit,
More Favorites Related to this Item:
Customers who bought this item also bought: