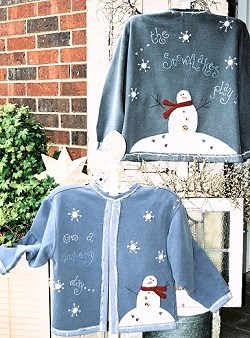 Wintery Day Jacket Project Pack Review
Wintery Day Jacket Project Pack has not been rated yet.
Write a review
Scroll Over Image for Close-up!
Wintery Day Jacket Project Pack
ProductID: ZK-SG062
Wintery Day Jacket is a whimsical winter design featured on a blue pigment dyed sweatshirt with couched fibers along the jacket's edges. Snowmen are created from Chenille By The Inch™ and embellished with embroidery, buttons, and WoolFelt®. Hand embroidered words, "On a wintery day...the snowflakes play", are completed with hand-dyed floss. Button snowflakes flutter through the sky. Bird buttons and carrot noses from Just Another Button Company complete the design. The pattern includes complete instructions for sweatshirt modification, appliqué, and embellishments.

Project Packs contain the two yarns for couching and hand dyed floss , as well as  the specialty buttons (sweatshirt, Chenille By The Inch™, are not included). Sweatshirts sold separately.


Item Tags: Serendipity Gifts, Sweatshirts, Kit, Wintery Day Jacket Project Pack
Customers who bought this item also bought: