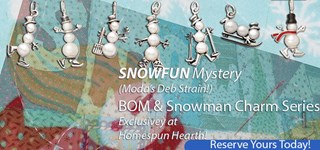 SNOWFUN Snuggler Mystery Flannel BOM or All at Once - Includes Backing! Review
SNOWFUN Snuggler Mystery Flannel BOM or All at Once - Includes Backing! has not been rated yet.
Write a review
Scroll Over Image for Close-up!
SNOWFUN Snuggler Mystery Flannel BOM or All at Once - Includes Backing!
ProductID: ZM-SnowFun-BOM
By: Homespun Hearth Exclusive Design

We are so excited to announce that our Exclusive Snowfun Snuggler Mystery Frayed Edge Quilt is back for 2017! Featuring Moda's It's Snowing Flannel Fabric by Deb Strain, this unique design has a bit of mystery, fun, and of course intrigue .. perfect for every member of your home.

The finished quilt measures 72" square, and features the Moda fabric from Deb Strain's Holiday 2009 It's Snowing Fabric! We have kept this under lock and key for 7 years, and are so happy to have it now see the light of day.

Don't recall the fabric line? No worries - scroll over the image and you can see some of the fun snowman fabrics that are in this unique '3D mystery quilt.' Also, if you look close enough at the image, you can see a faint hint of the quilt in the background behind the charms ;) The kit includes all of the fabric required to complete the entire quilt, including the backing.

Block of the Month
This is a 12 month mystery program and will begin the 1st week in January, 2017. Each month we will send you fabrics and full-sized color-instructions for that month's blocks. You won't have to spend too much time each month, but at the end of the year you are going to have a spectacular quilt! The cost of the BOM program is $24.99 plus shipping costs per month for 12 months, plus the initial reservation deposit.

All at Once - Free US Shipping!
The cost of the All at Once is $299.88 plus the initial deposit. Free US Shipping, and our International customers receive a 20% shipping discount.

Optional Snowmen Charms
We also have an Optional Snowman Charm package. available for our customers! Each month we will send you an adorable snowman charm - each one made from sterling silver, cultured pearls, and some also have Onyx and Enamel parts as well. There are a total of 12 different snowman, each involved in a different snowy activity! The cost of the monthly snowman charm is $20 per month, or you can order the entire set for just $199 - that's a $40+ savings!

Notes about our BOM Programs
•Should you be participating in more than one BOM with us, we will combine your orders to save you on shipping costs!
•Also, please note - while we do accept Paypal for the Reservation Deposit, we will need a credit card on file for the duration of the program.
•For optional items that you reserve, these will be charged and ship on the first month.
•Finally, should you make a mistake on your block, and if we have the fabrics in stock, we will replace the fabric at no extra cost to you!




Item Tags: Easy Rag Quilt, Flannel Quilt Kits, Rag Quilt Kit, Quilt-as-You-Go kit