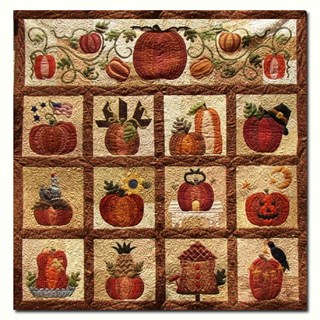 NEW! The Great Pumpkin FLANNEL Quilt Kit BOM
Start Anytime! Review
NEW! The Great Pumpkin FLANNEL Quilt Kit BOM
Start Anytime! has not been rated yet.
Write a review
Scroll Over Image for Close-up!
NEW! The Great Pumpkin FLANNEL Quilt Kit BOM
Start Anytime!
ProductID: ZM-TGP100-FLAN
$5.00
Reservation Deposit
This stunning design is a masterpiece for anybody who loves the harvest season and pumpkins! This 78" x 75" quilt features 19 different pumpkins that symbolize this favorite time of year and the stunning blend of Maywood's Wooly Cotton Flannels we have chosen will be an heirloom for generations to come.

The Wooly Cottons in pumpkins, mustards, harvest greens and rich earth-tone colors, textures and depths brings a certain extra 'fall' quality to this quilt. It will look like wool, but will be the soft feel of brushed cotton.

The monthly kits incude 100% top-quaity Maywood Wooly Cotton fabrics, and easy-to-follow instructions and full-size applique templates required to complete the quilt. The final (15th) shipment will include the sashing and binding fabric.

Block of the Month
This is a 15 month Block of the Month. The cost is $32.99 per month plus shipping. You can elect to receive any remaining blocks at any time.

Optional Backing
There is also coordinating backing, which will ship with your first month.

Notes about our BOM Programs
•Should you be participating in more than one BOM with us, we will combine your orders to save you on shipping costs!
•Also, please note - while we do accept Paypal for the Reservation Deposit, we will need a credit card on file for the duration of the program.
•For optional items that you reserve, these will be charged and ship on the first month.
•Finally, should you make a mistake on your block, and if we have the fabrics in stock, we will replace the fabric at no extra cost to you!


Fabric Type: 100% Cotton Quilting Fabric
Item Tags: Quilting Fabric, Quilting, Fabric, Free Gift