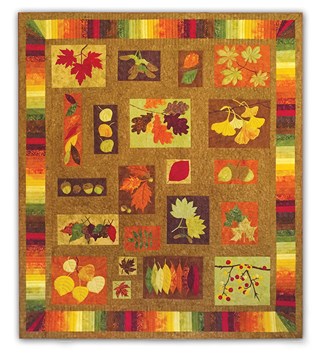 More In Stock! Equinox Batik Quilt Kit Review
More In Stock! Equinox Batik Quilt Kit has not been rated yet.
Write a review
Scroll Over Image for Close-up!
More In Stock! Equinox Batik Quilt Kit
ProductID: ZK-46-Equinox-Kit
By: 4th & 6th

As fall approaches, we think this is the perfect quilt to capture the essence of the Autumnal Equinox.

The design has so many of those beautiful colored leaves that make us all yearn for the change of seasons, with cooler temperatures and a certain briskness in the air.

Featuring all the exact stunning designer batik fabrics by Island Batik, this quilt uses the same technique by 4th & 6th designs as we found on the Full Bloom kit. With the combined machine applique and piecing techniques (something so refreshing and different) you are going to wonder why you didn't think of it! And, if you've done it before, you are going to love it again.

The generous Queen sized quilt measures 92" x 108". The kit includes the instructions and the same fabrics as the original quilt.

Backing sold separate - 9 yards.
Item Tags: Designer Batiks, Edge Color Applique, Island Batik Quilts
*Please Note
-
Layaway available on this item