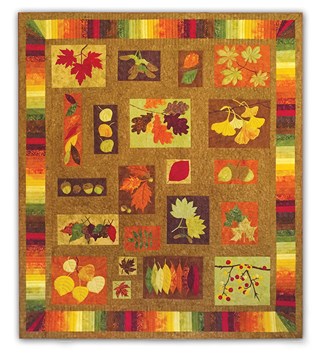 Equinox Batik Quilt Kit
Block of the Month
or All at Once Quilt Kit - Start Anytime! Review
Equinox Batik Quilt Kit
Block of the Month
or All at Once Quilt Kit - Start Anytime! has not been rated yet.
Write a review
Scroll Over Image for Close-up!
Equinox Batik Quilt Kit
Block of the Month
or All at Once Quilt Kit - Start Anytime!
ProductID: ZM-46-Equinox
By: 4th & 6th
$8.00
Reservation Deposit

This quilt so captures the essence of the Autumnal Equinox.

This design has so many of those beautiful colored leaves that make us all yearn for the change of seasons. Featuring stunning designer batiks by Island Batik, this quilt uses the same technique by 4th & 6th designs as we found on the Full Bloom kit - something so refreshing and different, you are going to wonder why you didn't think of it! And, if you've done it before, you are going to love it again!

The Queen sized finished quilt measures 92" x 108". This will combine machine applique and piecing techniques.

Block of the Month
The kit includes all of the designer batik fabric, exactly as the original, including binding, as well as full-size patterns and easy-to-follow instructions. This is a 12 month block of the month program, and the cost of the program is $27.99 per month plus shipping costs, plus the initial $8 reservation deposit.

All at Once Version - Free US Shipping
An All at Once version is also available - the cost is $335.88, plus the reservation deposit.

Coordinating Backing
Optional Coordinating backing is also available - $98.99, and will ship with the first block or the All at Once Kit.

Coordinating Aurifil ThreadThere is also a beautiful coordinating Full Bloom Aurifil Thread 12 Pack available. ($129.99)

Optional Items
Other items you may want to reserve here include Roxanne's Glue Baste It 2oz Bottle, and Sulky's Totally Stable (20" x 5 yards) - both recommended for the Edge Color Applique.

We are very excited about this new design, technique, and refreshing quilt - and we think you will be, too!

Fun Facts about our BOM Programs
•Should you be participating in more than one BOM with us, we will combine your orders to save you on shipping costs!
•Also, please note - while we do accept Paypal for the Reservation Deposit, we will need a credit card on file for the duration of the program.
•Shipping - we will ship insured, and if the blocks weight allow, it will be 1st class insured, otherwise Priority flat rate.
•Reservation fees are part of the overall cost of the program and are non-refundable.
•For optional items that you reserve, these will be charged and ship on the first month.
•Finally, should you make a mistake on your block, and if we have the fabrics in stock, we will replace the fabric at no extra cost to you!




Item Tags: Designer Batiks, Edge Color Applique, Island Batik Quilts