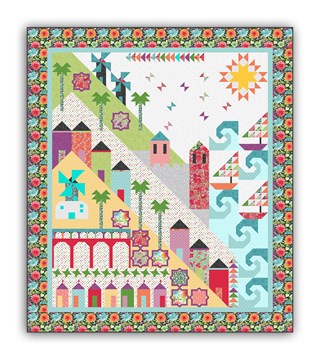 Fun on the Mediterranean BACKING Review
Fun on the Mediterranean BACKING has not been rated yet.
Write a review
Scroll Over Image for Close-up!
Fun on the Mediterranean BACKING
ProductID: ZMX-Med-Fun-BACKING
By: Homespun Hearth Exclusive Design
This was a customer favorite Margaux Mystery - and now that the mystery is revealed, you can see the fun that Margaux and family had on this journey! From the Palm Trees of Corsica and Croatia, to the Turkish Riviera Castles, the Windmills of Mykonos and Milos, and the colorful homes of Cinque Terre on the Italian Rivera, plus the Spanish tiles of Mallora, the beaches of St Tropez, and so much more, you will delight in what the Med has to offer!
The finished size of the quilt measures 79" x 91", features the
now retired
Meadow Dance fabric for Benartex fabrics. We offer this as a Block of the Month, or All at Once, and you can elect to receive pattern downloads or full-color patterns. We offer this in 2 colorways - the light outer border, or the dark gray outer border - this is for the Dark Outer Border,
and you can see the Light Outer Border Here.
Block of the Month
This is a 13 month program, and you can start any time. The cost is $30.62 per month plus shipping and the initial reservation deposit.
All at Once
You can also receive this as an All at Once (or put on Layaway). The cost for the All at Once is $398.06 and US Shipping is Free. Our International Guest receive a 20% Shipping Discount.
Full-Color Pattern
The pattern is available as a Pattern Download (into your account each month), or you can select to have us print and mail it to you. The cost is $3 per month for the download, and $6 for the printed pattern.
Backing Fabric
There is also backing available - $96.79, and this will ship with your first month.
Fun Facts about our BOM Programs
•Should you be participating in more than one BOM with us, we will combine your orders to save you on shipping costs!
•Also, please note - while we do accept Paypal for the Reservation Deposit, we will need a credit card on file for the duration of the program.
•Reservation fees are part of the overall cost of the program and are non-refundable.
•Finally, should you make a mistake on your block, and if we have the fabrics in stock, we will replace the fabric
at no extra cost to you!
a Rafflecopter giveaway
Item Tags: 2019 Monthly Mystery Quilt
*Please Note
-
Layaway available on this item
Customers who bought this item also bought: